BioExcel's webinar series continue with a presentation by Christian Blau
Abstract
From GROMACS2020, GROMACS officially supports adding forces from three-dimensional densities in simulations. In this webinar I will show how to set up a simulation to refine three dimensional all-atom models against cryo electron-microscopy data.
Presenters
Christian Blau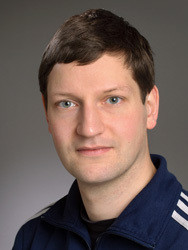 Christian Blau

PhD in Göttingen with Helmut Grubmüller at Max-Planck-Institute for biophysical Chemistry.
from 2015: Researcher at Stockhom Unviersitet and KTH with Erik Lindahl, working on GROMACS development and concepts to drive simulations with experimental data
from 2019 working with BioExcel
Register for webinar
Title: Density guided simulations – combining cryo-EM data and molecular dynamics simulation
Date: 28th April, 2020
Time: 14:00 BST / 15:00 CEST
Registration URL: https://attendee.gotowebinar.com/register/6802717329799209741
Webinar ID: 386-525-235

You will then receive an email with details of how you can connect to the webinar.
Discuss this webinar – View slides on SlideShare – Join Interest Group