BioExcel CoE Newsletter #18
We hope that you had great summer holidays! Team BioExcel certainly did, while still working on an exciting program of activities in autumn. As always, our goal is to provide the best in class applications and give you many opportunities to improve your expertise in molecular simulation techniques. Checkout our upcoming webinars and training events in the sections below.


Bridging the gap between HPC and biomolecular research
After a successful first edition, the 2019 BioExcel/PRACE Seasonal School returned for the second time in Stockholm, aimed to build expertise on the efficient usage of HPC resources in molecular modeling and simulation.


Participants got the opportunity to expand their knowledge and compare performances of GROMACS, NAMD, VMD and AMBER. The inclusion of hands-on sessions provided an insight into the workings of different codes on HPC systems and preparation setups for multiple types of simulation.

To increase accessibility of our events, BioExcel provided travel grants to a selected number of participants. "Witnessing different technical and scientific approaches where the benefits of the codes were demonstrated, was incredibly helpful for my career development," said Sanja Škulj, travel grant beneficiary.
Read more about the event testimonials here.


Webinars
Writing big, complex codes from scratch is a major challenge. Often, however, it is possible to build on top of existing applications and extend their functionality. PLUMED is one of the popular plugins that enhances the functionality of a wide range of molecular simulation engines. Join this webinar to learn more about its capabilities and exciting new features.


Events
If you want to efficiently use GROMACS on complex super-computing infrastructure, model ligand binding and docking with HADDOCK, or need to set up free energy evaluation protocols with PMX, then the Advanced GROMACS, HADDOCK and PMX workshop in Finland is the right place to go. The event is jointly organized by BioExcel, CSC and PRACE. Travel bursaries are available.


For novice, entry-level, computational scientists we highly recommend our Hands-on Introduction to HPC for Life Scientists course, which will take place in Birmingham. The course focuses on the most important aspects for those new to the HPC technologies. It will help you judge how HPC can best benefit your research, and equip you to successfully and efficiently make use of HPC facilities in future. It will help you understand basic concepts in HPC hardware, software, user environments, filesystems, and programming models, as well as provide you with an opportunity to gain hands-on practical experience. Register here, seats are limited. Travel bursaries are also available.


BioExcel Executive Director
Webinar: More bang for your buck: Improved use of GPU Nodes for GROMACS 2018 (2019-09-05)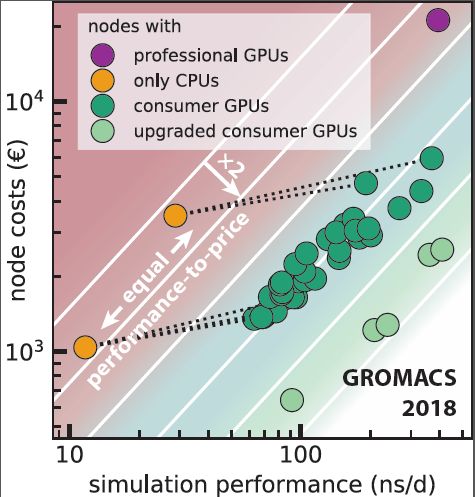 BioExcel's webinar series continue with a presentation by Carsten Kutzner Register Abstract We identify hardware that is optimal to produce molecular dynamics trajectories on Linux compute clusters with the GROMACS 2018 simulation package. Therefore, we benchmark the GROMACS performance on a diverse set of compute nodes and relate it to the costs of the nodes, which may include their lifetime …
Webinar: Enhanced molecular simulations with PLUMED (2019-09-12)
BioExcel's webinar series continue with a presentation by Gareth Tribello Register Abstract PLUMED is a plugin that can be used in tandem with a number of different molecular dynamics codes. The original paper on PLUMED was published 10 years ago and the code has had a success that we could not possibly have envisioned when we started writing it all …
Advanced GROMACS, HADDOCK + PMX Workshop
BioExcel, CSC and PRACE are holding a GROMACS/HADDOCK/PMX workshop in the CSC facilities in Espoo, Finland from October 9th through 11th. Participants will learn how to efficiently use GROMACS on complex super-computing infrastructure, how to model ligand binding and docking with HADDOCK, and how set up free energy evaluation protocols with PMX. The event will run lunch to lunch. Travel …
Hands-on Introduction to HPC for Life Scientists
This course provides an introduction to High-Performance Computing (HPC) for researchers in the life sciences, using ARCHER as a platform for hands-on training exercises. The course is organised and funded by BioExcel - the Centre of Excellence for Computational Biomolecular Research and PRACE, and delivered in collaboration with ARCHER - the UK national supercomputing service. BioExcel will be providing a …