BioExcel CoE Newsletter #11
The GROMACS team already launched a second beta of the upcoming 2018 release (that's right, there will be no 2017 release - we are superstitious of prime numbers!). Why not give it a try and help with the release?
Our Community Forum in Amsterdam was such a great event that we're planning to run it again next year, most likely in autumn. Before that, we are organizing a great Summer School in Sardinia in June. Along with the great lectures and hands-on you'll get also 1) great weather, 2) great food, 3) great beaches. Participant seats are limited so claim your as soon as you can! Full registration is not open yet but drop an email to Vera (matser@ebi.ac.uk) to express interest.
And finally - we are thrilled about the Nobel Prize for Chemistry 2017 being awarded to Cryo-EM. We send our warmest congratulations to Jacques Dubochet, Joachim Frank and Richard Henderson. We are also excited that BioExcel has been able to contribute to the field through the development of the RELION program at Cambridge and Stockholm University, and we look forward to continue working with the computational Cryo-EM community.


Have a wonderful time over the holidays!


* You are receiving this mail either because you subscribed for the BioExcel's newsletter through the website or you attended one of our webinar events. Since we are organizing regularly more of the latter, we thought you'd like to know about them. You can, of course, always unsubscribe (link is at the bottom) but we hope you'd like to stay in touch.
Webinar: Hybrid Molecular Mechanics/Coarse-Grained approaches to model proteins with unknown 3D structure and low sequence identity (2017-12-14)
Discuss this webinar View slides on SlideShare Join Interest Group BioExcel's webinar series continue with a special discussion on multiple timescales in atomistic simulations and ways to address specific challenges in such models. Register Abstract Multiscale molecular dynamics approaches couple, in the same simulation, descriptions of the system at different resolutions. In particular, the so-called Molecular Mechanics/Coarse-Grained approach has been …


HADDOCK webserver passes 10,000 registered users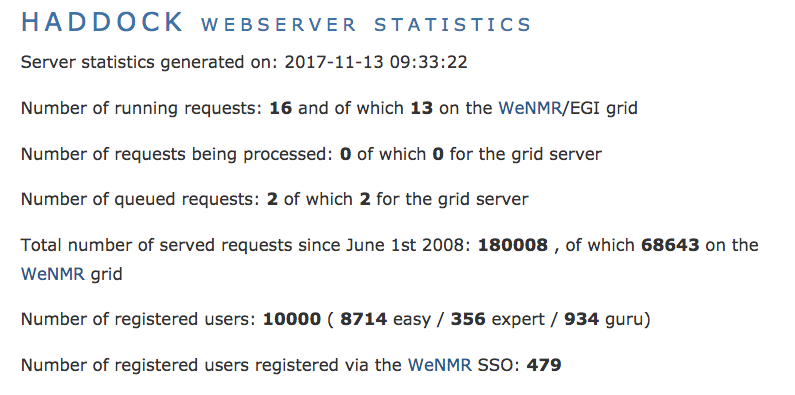 Our HADDOCK web portal has reached today a new milestone with 10000 registered users from all around the world! Since June 2008, the server has processed over 180'000 docking runs, about 35% of whose have run on the High Throughput Computing (HTC) resources of EGI building on the European e-Infrastructure. The continuous development and operation of the HADDOCK web portal …


New platform for elucidation of large protein and nucleic acid structures in infections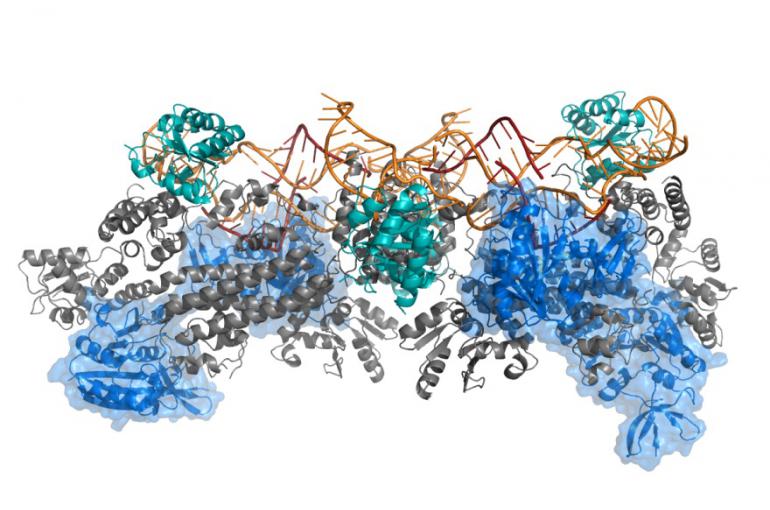 In order to be able to develop new drugs against infectious diseases, researchers need to understand their molecular basis. How does the proliferation of a pathogen proceed, what interactions take place between it and the host cell and how are these processes regulated? For this purpose, protein-RNA complexes are examined. They play an important role at different times in the …


Extreme-Scale Demonstrators Networking
BioExcel is an active participant in the discussions and roadmap for the upcoming Extreme-Scale Demonstrators projects. ETP4HPC, which coordinates the process and facilitates the match-making, has set up a procedure to help interested organizations or projects to find a partner. Full details are available here . If you are interested specifically in engaging with BioExcel and our network of experts, …


Collaborations
Collaborations are an integral part of our goals to provide support and impact within the wider community. In addition to the ongoing efforts of each of the partners, the CoE has formalized several strategic and collaborative partnerships through Memorandums of Understanding (MoUs). How to become a partner As a first step, we recommend that you get in contact with BioExcel …


Nobel Prize for Chemistry 2017 awarded to Cryo-EM
We are thrilled about the Nobel Prize for Chemistry 2017 being awarded to Cryo-EM, and send our warmest congratulations to Jacques Dubochet, Joachim Frank and Richard Henderson. We are also excited that BioExcel has been able to contribute to the field through the development of the RELION program at Cambridge and Stockholm University, and we look forward to continue working …