In this edition of our Newsletter we announce our Summer School on Biomolecular Simulations which will happen later this year. Also, you can find further information on our webinar series which started this month and is focused on some of our core codes. We report a couple of success stories from our partners; one involving the collaboration with Nvidia to improve GROMACS performance and another which presents a new simulation model of DNA movement. You can read a short article from the recent EuroHPC Summit which was attended by some of our partners and provided much food for thought on the main theme of European Supercomputing excellence in the exascale era. Finally, we have a job opening for an HPC applications expert and a small request for all those who have received support from BioExcel.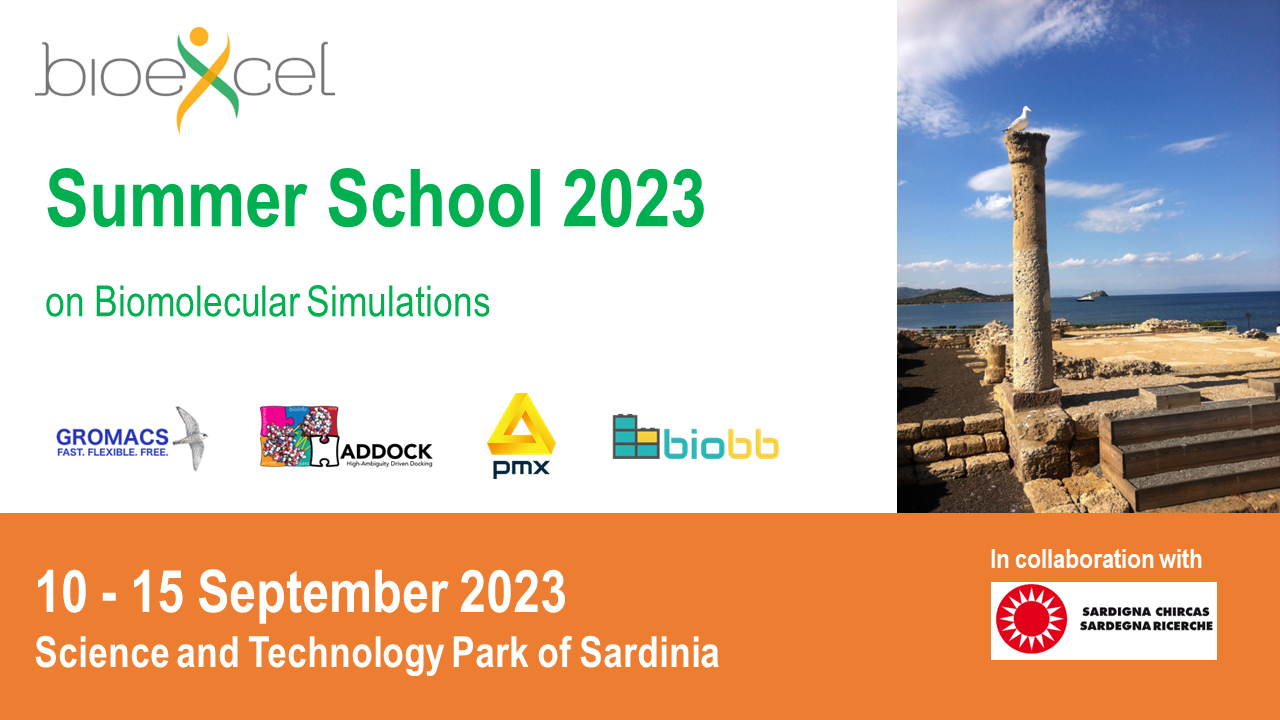 Summer School on Biomolecular Simulations 2023
We are happy to announce that registration for our Summer School on Biomolecular Simulations taking place from 10 to 15 September in Pula, Italy is now open!
This is a popular event set in a beautiful location and offers the right balance of theory and hands-on computer practicals. You will learn to make use of the BioExcel flagship software and tools: GROMACS, HADDOCK, PMX and BioBB. The trainers, developers and/or experts in the use of the software, will provide you with guidance and support. Participants will be able to present their work during the poster session and the poster prize winners will be invited to present at a future BioExcel webinar.
Webinar series: focus on BioExcel core codes
We have kicked-off our webinar series this year focusing on some of our core codes.
We started on 25 April with Andrey Alekseenko, Berk Hess and

Szilárd Páll talking about 'What's new in

GROMACS 2023'. If you missed this webinar, you will be able to watch the recording which will be available on the BioExcel YouTube channel shortly.
Our next webinar is on the 23 May at 15:00 CEST and Adam Hospital will present 'an integrated web-based platform and programmatic interface for biomolecular simulations workflows using the BioExcel Building Blocks library'. Information and registration.
Our last webinar before the summer break will be on 13 June and will feature HADDOCK 3.0. Check our website after the 23 May for more information and registration for this webinar.
Collaboration: a guide to CUDA Graphs in GROMACS 2023
Read this blog by Alan Gray and Szilárd Páll to find out how the ongoing collaboration with
NVIDIA
has enabled increased GROMACS performance on GPUs through integration of CUDA Graphs.
Publication: new model to predict the flexibility of DNA movement
Check out the work done by Kim López-Güell and Federica Battistini in Modesto Orozco's group at IRB Barcelona which

provides a greater understanding of sequencing-dependent DNA at the base pair resolution level and allows a local & global description with high precision for atomic-level molecular simulations and experimental measurements.
Exascale HPC in the Life Sciences: at the dawn of a new era
What does it mean to make good use of exascale HPC, what are the challenges for the European CoEs and what are the differences for each application area? These are some of the questions posed at the recent EuroHPC Summit 2023. Read our article which is based on presentations and discussions from the event and is focused on exascale HPC in the Life Sciences.
Job opening: HPC applications expert
The Max Planck Computing and Data Facility (MPCDF) is looking for an HPC applications expert to join their international team at the research campus in Garching, near Munich, Germany. This is a great opportunity to work on new methods in GROMACS and join the BioExcel team.
Job posting: deadline for applications is 15 June 2023.
Request: please acknowledge BioExcel support
We are passionate about providing high quality support to users of our codes and have done so for many years. We have a small favour to ask those who have received this support and read this message.
Could you please take a moment to acknowledge the BioExcel Centre of Excellence as part of your dissemination through journals, presentations or other forms of communication? It would mean the world to us! We would be delighted if you could drop us a quick email at team@bioexcel.eu to let us know how we have helped you. Thank you for your continued support!