BioExcel is proud to announce our new partnership with Software Sustainability
Institute (SSI). Since 2010, the

Software Sustainability

Institute has facilitated the advancement of research software and led on best software practices. Through this initiative, we hope to work towards activities supporting the goals of both BioExcel and the SSI.
This month, the BioExcel QM/MM Survey was launched to gather input from researchers who perform biomolecular simulations and whose experience using QM/MM ranges from zero experience to expert active users.


And finally, the programme is now live for the BioExcel Summer School with an amended application deadline of 10 April. Visit our website to have a look at the covered topics and trainer list.


BioExcel Dissemination Officer
Latest News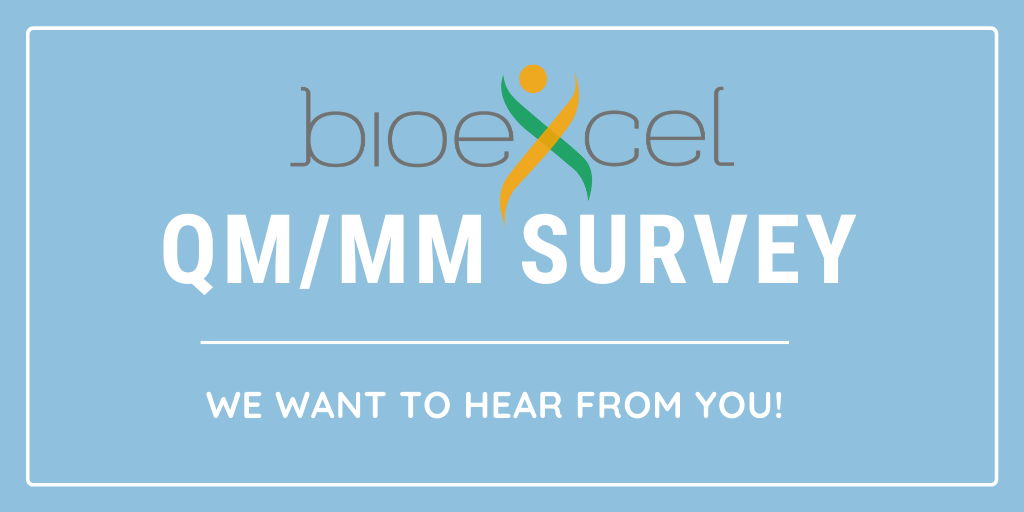 Do you have experience using QM/MM?
BioExcel is currently developing an interface between GROMACS and the quantum chemistry package CP2K to facilitate adoption of QM/MM simulation. We invite researchers with biomolecular simulation experience to fill out the survey as your thoughts and opinions will help guide the development of the QM/MM community through training, support and r
elevant community events. All responses are anonymous and results will be made available later in the year. The survey will close on
1st April.
Collaborative partnership with Software Sustainability Institute
BioExcel is partnering with

Software Sustainability Institute

to encourage development of an interoperable pan-European and global infrastructure for biomolecular research. The new collaboration will facilitate organisation of joint training programmes and webinars to allow for expertise exchange among user communities.
Webinar: What's new in GROMACS 2020
We were delighted to team up with Paul Bauer, Scientific Programmer and GROMACS development manager to present our latest webinar on the new features included in the recently released 2020 version of GROMACS. Catch the webinar recording on our website.
Training Opportunities
The course will make attendants familiar with simulation technologies used in Life Sciences and their specific adaptation to HPC environment
20 - 22 April

| Lausanne, Switzerland




This workshop is intended to introduce new interactive molecular simulation tools for the multiscale study of DNA
22 - 26 June | Science and Technology Park of Sardinia, Italy


The summer school is intended for researchers using or planning to use biomolecular modeling and simulation.